News Comments
United States
United Kingdom
International
Other
United States
Robinhood, the free stock trading app, has raised $363 million in a new investment round valuing the company at $5.6 billion.
The Series D round, announced Thursday, makes Robinhood the second most valuable private fintech startup in the U.S. after Stripe, the online payments company.
SoFi, which recently confirmed it had 500,000 members, is on a customer acquisition push.
The company, which initially offered student loan refinancing for high-earning top-tier graduates and has since expanded its offerings, differentiates with VIP-style "member" benefits.
It's a customer-for-life strategy other digital banking upstarts are pursuing. Luvleen Sidhu, CEO of BankMobile, recently told Tearsheet that a "customer for life" strategy is underpinned by the reality that "every customer is a potential customer," with product offerings tailored for different life stages. SoFi has been known to pay a high price to gain customers; last year, it reportedly acquired customers at $756 apiece. The non-financial member services are valued at $795 per customer, according to the company.
Hey Future SoFi Money Member (SoFo Money Email), Rated: A
Higher interest (1.09% for May—21x the national checking account average of 0.05%!)
Reimbursed ATM fees worldwide (up to 6 per month)
No foreign transaction fees
No overdraft fees or account fees whatsoever!
Easy-to-use mobile app
SoFi Money Visa Debit Card
Mobile check deposit
Free checks
Top notch customer support
Send money to friends and family with easy P2P at no cost
Bill pay
Direct deposit
PLUS access to SoFi membership including complimentary career coaching and member events when you set up direct deposit
Did we mention that if you sign up for an account and set up direct deposit you'll get $200?
Such a strong reaction to LendingClub hasn't happened in years. The company is still down 20% year to date, and more than 40% in the last twelve months. LendingClub has struggled to find its footing ever since the ouster of its CEO, Renaud Laplanche, after controversy over the parking of LendingClub notes in a related third-party firm. More recently, in the wake of Wells Fargo's (WFC) fake-account scandal, the FTC has also charged LendingClub with charging improper fees to borrowers, sending the stock to new all-time lows of $2.57.
But with this earnings quarter – the first time in a long time that LendingClub has rallied to earnings news (in Q4, LendingClub dropped 9% after missing revenue estimates; the quarter before that, it tanked 17% for doing the same). What's interesting is that even in this quarter, LendingClub continued a three-quarter streak of missing analysts' revenue expectations.
As the housing market has gone from recovering to roaring over the last five years, home flipping has also increased.
According to data provided by ATTOM Data Solutions, a real estate data provider, some 138,410 flippers invested $56 billion in home flipping in 2017, 34.8 percent of which was financed as opposed to executed in all cash. Prior to the housing bust, the same type of easy credit that infected the traditional mortgage market was also present in home flipping. At the peak of the housing bubble in 2005, more than $100 billion worth of homes were flipped by 287,929 investors, and 66 percent of those home flips were financed with loans.
Koizumi won his fight, his party crushing all opposition in a landslide, and his plan was set in motion, though the process has taken more than a decade. The company's initial public offering in 2015 was the world's biggest in that year. The government still owns most of Japan Post Holdings Co., and periodically sells off shares, with the goal of eventually reducing its stake to only a third from more than half now. But privatization hasn't shrunk Japan's postal bank itself, which remains one of the largest and most important in the world: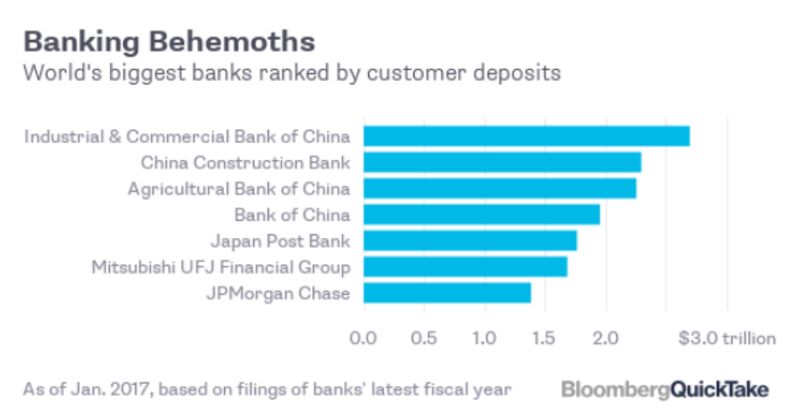 The problem was that Japan's postal bank didn't just take deposits — it also lent money, including to so-called zombie companies, or inefficient enterprises that survive due to below-market-rate loans.
Bond Fund Inflows, Dollar Rally and Buyback Surge (INTL FCStone Email), Rated: AAA
U.S. equity ETFs have lost $35 billion since the Nasdaq index peaked in mid-March. This is the longest stretch of ETF outflows I can remember since the end of the great financial crisis. Inflows into bond funds accelerated to $16 billion over the same time. Jumping from stock to bond funds at the first sign of volatility was a logical reaction when bond yields were falling to record lows amidst the deflationary fears of the beginning of 2016.
It makes a lot less sense when corporate earnings are soaring, when deficit-related treasury issuance is exploding, and when the New York Fed underlying inflation gauge is clocking above 3%. Last but not least, the equity selloff was in large part driven by a bond market rout that pushed 10-year yields above the economically meaningless but psychologically symbolic 3% level.
Read the full report here.
Zeus CrowdFunding, Zeus Hard Money and Zeus Mortgage Bank—made the switch to monotheism. The three successful businesses are now united under a single brand: ZeusLending.com.
Zeus Founder and Chief Acceleration Officer Steven Kaufman claims to have consolidated all three financing businesses into a single organization to better serve the community of real estate buyers and investors who rely upon fast, no-hassle loans to conduct timely transactions.
Although the Department of Education hasn't formally announced the new rates, this year's bump is likely to be higher than expected, said Mark Kantrowitz, a student loan expert.
LendingTree today released its first Consumer Debt Outlook for May 2018. Americans are on pace to amass a collective $4 trillion in consumer debt by the end of 2018. Collectively, Americans owe more than 26 percent of their income on consumer debt, up from 22 percent in 2010.
Incomes growing, but consumer borrowing growing faster
Overall, the percentage of total non-housing debt, at 26 percent of Disposable Personal Income, is now even higher than during the credit boom in the mid-2000s.
Excellent credit (760+ score): Offered APRs to consumers with a credit score of 760+ averaged 7.35% in April.
The average best APR offered to all borrowers with credit scores of 760 or above was 7.35%, a decrease of 7 basis points from the prior month and 2 basis points from the same period one year ago.
At $22,774, the average loan amounts offered with the best APRs to all borrowers with a score of 760, up 0.57% ($130) from last month, and over 17.86% ($4,067) from the same period one year ago.
The top 10% of offers, presented to borrowers with the best profiles within this group, had offered APRs of 4.87% on average, and loan amounts of $33,931. A borrower with this APR and loan amount would save $2,877 by consolidating debt with a 10% APR over a three-year term.
Recently, CI had a chance to catch up with Eric Malley, founder & CEO of MG Capital Management during the Crypto Invest Summit in Los Angeles. While not quite there yet, Malley is interested in the potential of blockchain.  He is looking at the options of how crypto and property can make sense for both investor and issuer.
MogulREIT I, as part of its diversified income strategy, recently completed two preferred equity investments in community-based retail centers. Community-based retail centers are centrally located within their respective population centers and focus on durable tenancy that serves the needs of the working community, thereby being less susceptible to internet retailing. The transactions include a $3 million preferred equity investment in a retail center in Waterbury, CT, consisting of three multi-tenant strips with 17 suites across 50.5 acres and a $1.9 million preferred equity investment in a retail center comprised of two lots with over 27,000 square feet located in Orange County, CA. CoStar reports that within a one-mile radius of the property, average household income is over $116,000.
Apple Inc. and Goldman Sachs Group Inc. are preparing to launch a new joint credit card, a move that would deepen the technology giant's push into its customers' wallets and mark the Wall Street firm's first foray into plastic.
The planned card would carry the Apple Pay brand and could launch early next year, people familiar with the matter said. Apple will replace its longstanding rewards-card partnership with Barclays PLC, the people said.
Guaranteed Rate, one of the nation's largest retail mortgage lenders, reached $3 billion in total locked loan volume for the month of April and eclipsed records previously broken in March. In a highly-competitive housing market, the retail mortgage lender showed it's the home purchase expert by achieving the following records: 9,387 in total locked units, $2.5 billion in locked purchase volume and 8,041 in locked purchase units.
Nationwide is shutting down its retail bank, returning to its historical core business lines including insurance and retirement; part of this plan is to invest more resources in reaching the fee-only adviser community.
The move to wind down banking operations was a strategic decision to focus on trust operations that support  retirement plans, a company spokesman said. Gaining scale and becoming competitive in retail banking would have required a "significant investment."
We are now seeing an evolution of the online lending model: version 2.0. This version looks in many ways like a traditional bank, albeit a much lighter and digital one, with multi-product platforms and a variety of custom offerings for consumers. With non-traditional models like Barclays and Goldman Sachs entering the market, online lenders are either partnering up or learning from the players they sought to disrupt. In digital lending 2.0, it will be important to take an open collaborative approach, broaden offerings and deepen customer relationships through more customized solutions.
A recently filed California lawsuit raises the stakes in the ongoing challenge to the "bank origination model." The lawsuit, Barnabas Clothing, Inc. v. Kabbage, Inc., was filed on March 22, 2018 in Superior Court in Los Angeles and recently removed to the federal court.1 Barnabas alleges violations of state usury, false advertising, and unfair competition laws, and asserts two federal Racketeer Influenced and Corrupt Organizations ("RICO") Act claims. Barnabas seeks to certify a class on behalf of all California-based Kabbage borrowers and requests various relief, including that the court void the Kabbage loans.
CreditCards.com, the average FICO credit score was 699 in 2016, which is just a step above fair credit. About 30 percent of Americans have poor credit, making it difficult for them to function in the financial world.
Get Creative with Loans
Peer to Peer Lending: Since 2005, peer to peer (P2) lending has been a staple for those seeking funding with bad credit. Rather than going through an institution, you apply for and receive funds over a member-funded platform.
United Kingdom
ZOPA is recruiting staff to bolster its regulatory expertise and influence ahead of industry changes and developments such as Brexit.
The peer-to-peer lender is advertising for a public and regulatory affairs officer who will be responsible for building relationships with key regulatory and political stakeholders and industry bodies.
According to LendInvest, when asked what will have the biggest effect on house prices in the next five years, nearly half (40%) of those surveyed viewed national economic growth as having the greatest impact. Only a quarter of respondents (24%) reportedly believe political developments, such as further elections and impending Brexit, will affect house price growth the most. And a shortage in supply of housing is the biggest concern affecting house prices for only a fifth (20%) of those surveyed, while 16% of aspiring developers cited the construction of new infrastructure such as the new HS2 and Crossrail lines as the key influencing factor.
Goldman Sachs has led a £13.6 million funding round into UK startup Trussle, a company that helps people get mortgages online and tells them when to switch to better deals.
Goldman Sachs Principal Strategic Investments and Propel Venture Partners led the Series B investment into Trussle, which was announced on Wednesday.
CYBG recently made a takeover approach of rival Virgin Money as challenger banks look for solutions in what has become a tough market; challenger banks are dealing with increased competition by digital entrants, not to mention the big four UK banks, rising funding costs and bigger rivals in the mortgage market; M&A activity among challengers is increasing as companies look to consolidate and digitize to compete.
Credit Kudos has got connected with banks in the UK, becoming the "first credit bureau to offer open banking services to lenders and individuals".
According to the credit bureau, borrowers can now use its services to verify income and demonstrate creditworthiness using their financial history data.
The company has now launched connections with Lloyds, Halifax, Bank of Scotland, Royal Bank of Scotland, NatWest, Ulster Bank, Allied Irish Bank, Danske Bank, and HSBC.
Glasgow-based Castlight Financial is partnering with Paradigm Mortgage Services and Foundation Home Loans to launch a pilot of its affordability tool powered by open banking technology.
Called Affordability Passport, Castlight says it allows brokers to process mortgages in under ten minutes.
China
China's government has tried for many years to establish a credit system that rivals the U.S. and Europe, but has found it a struggle to get there.
In 2015 China's Central Bank contracted eight companies, including affiliates of Tencent, Ping Anand Alibaba, to help build a credit system that could rival what other developed economies use. The experiment up until today has not fared well as lenders and e-commerce firms continue to use their own proprietary systems to determine risk of the borrower.
One of the main drivers behind the failure is companies were reluctant to share the data they collected. Also, conflicts of interest arose as users could be rewarded by using certain companies to drive their score up.
International
Splitit, a competitor to lending companies like Affirm and Klarna, is bringing its point-of-sale financing product to debit card users in the U.S. and Europe, targeting fashion and jewelry websites in particular, like Vestiaire Collective and Philip Stein.
Unlike its competitors, however, the company is focused on making the retail industry better for everyone involved — banks, processors, consumers and merchants — rather than displacing credit cards, said Gil Don, CEO of Splitit.
It might be decades before credit cards disappear, but different industries are already seeking ways to sidestep the fees that come with today's credit card payments.
The GetLine network is a peer-to-peer lending platform that is built on the Ethereum blockchain. By leveraging distributed ledger technology, the objective of this project is to disrupt the lending sector, which is currently valued at a whopping $1 trillion. Therefore, transactions will be processed instantly thanks to the direct connection between lenders and borrowers. Moreover, the platform will rely on an advanced credit risk prediction mechanism, making the entire lending process safer and accessible to lenders and borrowers respectively.
India
Is non-bank lending a form of access to credit for those in need or an investment asset class for the well-to-do? That is the question that India's central bank perhaps grappled with while framing the regulations for the nascent peer-to-peer (P2P) lending companies.
While the regulations were put up only in November last year, a handful of companies have exited business and many others have changed tack after looking at the guidelines.
Asia
DBS Bank recently announced a new in-app holistic digital financial advisor which it called "Your Financial GPS"  – said to be the first of its kind in Singapore.
If you're a DBS/POSB Bank member and have recently used your iBanking or digibank app, you might have noticed the new feature already available on the app's main page.
Indonesian peer-to-peer (P2P) lending startup Julo has raised $5 million in a Series A funding round led by Skystar Capital and East Ventures.
Other investors that joined the round include Gobi Partners, Convergence Ventures, Provident Capital, Central Capital Ventura, Heyokha Brothers and other strategic investors, Julo announced on Thursday.
The new round of funding comes only a year after Julo raised an undisclosed amount in a seed round, also led by Skystar Capital.
Authors: